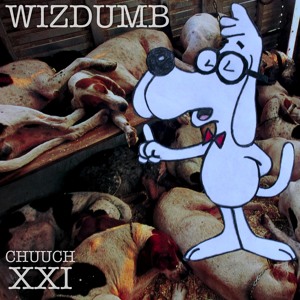 this week
WIZDUMB
shares some time . . .
S
u
n
d
a
y
M
o
r
n
i
n
g
:
Name your 3 biggest life influences... why?
Wizdumb: Well the biggest inspiration to me is probably vinyl records. There is something so
special about music on vinyl, like a weird aura or pureness in the warm
open sound. The grooves are real sound waves etched into a surface
giving it a very organic sound. Also there is so much music that is only
available on vinyl that hasn't been discovered. There is not a day that
goes by that i don't include records in my life, whether its
purchasing, listening, or just looking at the cover art or reading the
i'de have to say the artists around me that have not only inspired me
but have also mentored me, Namely the guy who first got me into beats,
Ezraw. He put me on to alot of the hip hop first got into and as i
watched him in his lab doing work i developed my own techniques branched
off of what i saw. Another cat to name is Specs-One. I remember when i
first picked up his album "NUMEROLOGY" back in 06, i was wildin off the
shit i heard, whole album was recorded on a tascam. I was like.....THIS
IS IT! THISIS WHAT I WANNA DO! He showed me that you don't need to make
music in "professional" standards. You can make music out of your
bedroom with the most minimal means of production and still put these
protools cats to shame, he really opened my eyes in terms of not being
afraid to make somthing different, in example quantization isnt always
dope, crunchy snares, vinyl static, and tape hiss can add character to a
composition..... dude is a seattle legend, i will always look up to
him. Thirdly my friends and family that support me and encourage me to
push harder and strive for somthing great. My father for always putting
me up on a brighter note when i feel discouraged and always showing me
new music. My mom for helping me put together merchandise for my label
and shows. All my musician friends who i work with and build with you
know who you are. Big up Lurksquad!!
S
M
:
Verbally portray your sound....
W: Uh I like to call it "Nerd rap"...........I geuss you could consider my
stuff bedroom boom bap, like nineties throwback hip hop. back when hip
hop meant somthing and it wasnt all about your money, diamonds, and
women. I try to be Olive Oils number one sailor.
S
M
:
Now describe Wizdumb in tweet format (less than 140 characters, twitter-related abbreviations)
W: WIZDUMB "the wax molesta" 206s finest beatsmith #LURKHARD
S
M
:
If you were given the opportunity to collaborate with any artisan
(visual, audible, edible).... who? .... why?
W: Man thats hard. As for emcees......damn........I would do anything to
rock with Rakim back in the paid in full days. Kevroc of Darc Mind no
doubt indeed, A-Butta and L-Swift of Natural Elements. Also been a big
fan of Metal fingers, so a joint with doom would be ill. Ide love to
just sit down and have a recording session with Gil Scott-Heron,
Thelonious Monk, Art Blakey, Freddie Hubbard, Wes Montgomery, and
Rahsaan Roland Kirk. Or just to be able to sit in a room with Jay Dee
back in the slum village fantastic vol. one days and watch him chop up
beats. the list is endless my friend. I'de astral travel with Sun Ra and
make space beats with him whilst doing so.
S
M
:
If you could teach listeners one thing through inspiration drawn from your music what would it be?
W: Let the music speak for itself. Find Beauty in simplicity. Don't just
listen to it, HEAR IT!!! Realize that music can be raw and Lo-Fi and
still be dope. Then pass it on to your compadres.
S
M
:
Somewhere you draw much inspiration from...
W: Everyday life, people watching, riding the bus, riding my bicycle, music, love,
hate, feeding my tree frogs, keyboard cat, fellow
beat smiths
, film, stress, happiness,
food, traveling, just about everything. Anything i find visually
interesting, piano rolls, guitar licks, and bass hits on vinyl. Searchin
SM: Fondest musical memory....
W: Meeting Bootsy Collins and Ahmad Jamal
S
M
:
Fill in the blanks: ____________ is __________
W: Real music IS gonna last, all that other bullshit is here today AND gone tomorrow.
S
M
:
24 hours to kill in Seattle, WA...
W: Wake up turn the drum machine use your instincts to make a dope song, lace
up the boots, head to beths cafe for an omellette, then DIG DIG DIG!!!
everyday music discount bin, bop street, dearborn goodwill, and all the
secret locations i can not disclose. then head to dicks drive in for a
gutbomb and some sliders. After that, head home chop up your latest digs
till around 5ish. Then hit up specswizard to get a brew at vermillion,
or check out whats going on at shortys pinball bar, maybe catch a show
at chop suey. Go to a BBQ at KEL and Jolas house.....haha
W: happiness is success, success is happiness.
Music makes me happy, and thats more than i could bargain for. I'll be
doing this till the day i croak, career or not, it keeps me level
headed. Ill see where it takes me, if money comes in...GREAT! even