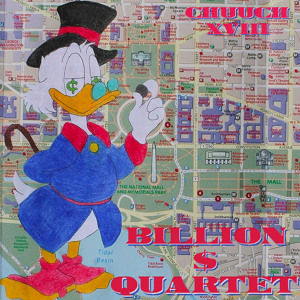 Sunday Morning: Name your 3 biggest life influences... why?
Billion $ Quartet: My mum, I am the only son of a single mother. Music, making music is my therapy. My ex wife, who gave birth to my son and in many ways made me the person I am today.
SM: Verbally portray your sound....
B$Q: Very varied. Maybe too varied, I never feel I've fitted into a scene. The music I make changes every few weeks. No actual genre, just what I feel to make, at that very moment. Generally it is electronic, sample based and sometimes has vocals, written and performed by me.
SM: Now describe Billion $ Quartet in tweet format (less than 140 characters, twitter-related abbreviations)
B$Q: B$Q makes music. Does not make money. Is looking forward to the future again now but still drinks and smokes too much.
SM: If you were given the opportunity to collaborate with any artisan (visual, audible, edible).... who? .... why?
B$Q: I'll choose to treat this as if it was an actual offer and stick to living persons (otherwise it would be Bob Marley). With the hope that it might actually happen one day I'll say somebody cool like, Souls Of Mischief, "93 till Infinity" meant so much to me when it first came out, 1993 was a very special year, in Hip Hop and also in my life. No, actually they are nice but I need to make some money so I'll say Daman Albarn, actually a project with both Damon Albarn and Souls Of Mischief would be wicked…. or maybe I'll properly sell out and say Justin Timberlake. Yeah, I think B$Q and JT would be NICE!
SM: If you could teach listeners one thing through inspiration drawn from your music what would it be?
B$Q: I don't think my music is deep enough to teach anybody anything.
SM: Somewhere you draw much inspiration from...
B$Q: The most important thing in my life is my son. Just his very being fills my life with a meaning and purpose I never felt before. He is my inspiration in life and music. If I am lucky enough to have any more children I will feel very honored and blessed.
SM: Fondest musical memory....
B$Q: Any one of the very early raves I went to as a young teenager in and around London, they made me feel like I understood life in a way I hadn't previously. I actually didn't though... It was just the drugs, new music and good friends but I still have very fond memories of the freedom I felt at that time in my life.
SM: Fill in the blanks: ____________ is __________
SM: 24 hours to kill in (hometown or current place of residence)...
B$Q: Mostly I just make music if I have time to myself. If it was 24 hours to entertain an out of Towner, it would probably involve having too many beers in Camden Town at some point and end up in Holloway Road at Crystals Kebab. Not too exciting but very true.
B$Q: Not having to work in the building industry anymore. Being paid enough money to provide for my family, by being involved in music somehow. I like being in the studio mostly but have enjoyed my few experiences with performing live in the past, so maybe doing the festival circuit in the summer and the studio in the winter, that would be the dream!!
Actually fuck that, it sounds too normal and boring…… success would be 1000's of people screaming my fucking name!!!!! bitches sucking my cock while I'm on stage. Gold chains and bling, fat spliffs for free, long lines and magnums of Moet, stretched Limo's and shit, VIP treatment everywhere I go, flying First Class every time, all that good stuff…… Yagetme?!