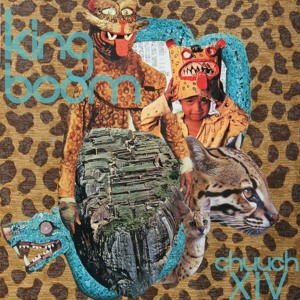 Sunday Morning: Name your 3 biggest life influences... why?
King Boom: Outkast - I Say Outkast Because They Were Without A Doubt "Outkast" Had A Totally Different Sound From Most Cats Coming Out Of The South. I Got All They Albums. Even Albums From Some Of The Other Cats From Dungeon Family. Dungeon Fam Just Went Hard! & I Still Keep Up With Big Boi. 3stacks Kinda Making Me Mad With This Pop Shit Tho. They Influence Me A lot Because I'm From Arkansas, So I'm Kinda In The Same Boat. Not Too Many Folks Here Doing This Kinda Of Production.
Madlib - Why? Because He is Muthafucking Madlib. Haha! But Really Dudes Work Ethic Is Crazy. And He's My Favorite Musician Period.
Life - People, Places, & Things Man. Im Very Observant. & Things That I See & Experience Drive Me. I Could See A Bad Car Wreck & Feel Bad For Those Folks All Day. On The On Other Hand Somebody Could Step On My Shoes & Id Be Mad At That Dude All Day, Ready To Fight. Hahaha! Both Of Those Situations Can Be Transferred To My Music
SM: Verbally portray your sound....
KB: A Melting Pot Of Funky Stuff. Ingredients Include The 4 Elements Of Hiphop, Jazzy & Funky Grooves. With A Hint Of Electrical Surges...Huh?
SM: Now describe Day By Day in tweet format (less than 140 characters, twitter-related abbreviations)
KB: Everyday its the same. Sleep for about four hours. Study, Read, And Make Beats. From Now Till Infinity. Trying To Get Some Booty 2 #BOOM
SM: If you were given the opportunity to collaborate with any artisan (visual, audible, edible).... who? .... why?
KB: Hard Question. Too Many People I Would Love To Collab With. I Guess Madlib. Because Of What I Said Earlier.
SM: If you could teach listeners one thing through inspiration drawn from your music what would it be?
KB: Since Most Of It Is Exclusively Audio With No Words. Id Encourage Using Their Imagination More. Most Music Today Is Simple And Bland.
I Think My Music Is Trippy Enough For People To Not Even Have To Blaze That Bud. Even Though Im Usually Faded When Im Producing. haha!
SM: Fondest musical memory?
KB: When I First Got A Taste Of An Adult Swim Bump. My Life Changed. In Fact Life Begun. Lol
SM: If you could re-score any film or video game soundtrack... which would it be? why?
KB: I Would Produce The Soundtrack To Those Motor Storm Games For The PS3. I Love That Game Series. And Id Make Some Epic Racing Beats.
SM: Fill in the blanks: ____________ can be _____________
KB: Listening To Music Can Be
Beneficial
When Creating Music.
Learn To Listen More Than You Create.
SM: 24 hours to kill in Little Rock...
KB: In Little Rock?? Downtown Is The Place To Be. Or At The Club. Bound To Have Fun. Thats At night Tho.
During The Day? Can Say. Its The Country. Outside Shit I Guess. Lol
KB: Having A Goal And Reaching It. It Could Be Anything. If It Gets Done, You Are Successful.